Amanda Eckert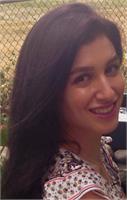 I'm from...
I'm a Cuban not living in Miami! Born and raised in Rockland County, NY my mother's father choose to settle his family here, once leaving Cuba, because of the county's hills that reminded him of his native home in Northern Spain. We are all lucky to live in such a beautiful place!
My education...
I graduated University of Vermont in January 2012 with Bachelor's in Political Science and minor in English. I study comparative politics and political theory extensively and was in a special program for Classical Humanities that let me discover comparative religion as well as classical western texts and philosophy. Currently, I am enrolled as a MS candidate in Environmental Policy and Sustainability Management at The New School.
I love yoga because...
Yoga allows me to put theory into practice. It allows me to achieve an internal state of being that really makes myself more available as a human being to others around me but most importantly it makes me super happy!
My classes...
My classes are deeply influenced by my teacher. I believe in tradition very deeply and would like for my students to experience a meditative space. But I also want people to laugh - thinking is best done when you can smile!
When I'm not teaching…
I am probably reading or attending a lecture. If I am not doing these things I am definitely walking near a body of water or watching a movie usually old james bonds or foreign flicks or Sherlock Holmes on BBC or CBS they're both great!
My favorite yoga pose…
This is a trick question! I guess my favorite is the one I dislike. Ukatassana. Chair pose. It teaches me how to find joy in my practice even when its unpleasant.
I'm inspired by…
I always say I'm inspired by everything and nothing. I put it this way because everything I see, read, feel, inspires me - literally all of it. I say nothing because not one particular "thing" is greater than another. I mean how many times in life do we pass something as the most significant or least significant thing ever and than realize it was the opposite of how we originally labeled and conceived of its status importance. But I am inspired by certain things I can name I suppose. My family is filled with incredible spirits that have always taught and supported me numerous ways. Classical philosophy both Western and Asian because its helped me to understand the difference between facts of life and truths of life. Teachers. I have been fortunate to have amazing teachers around me that are like the freshest of breaths one can take. I am humbled and soothed by water. I love being by nature I have so many plants I tend to because I never want to not be away from it. I will not be surprised if I settle in a glass home in the woods one day. Nature is most inspiring, whenever you pay attention something appears.
Amanda Eckert is currently not instructing any classes.